"None of us want to be in calm waters all our lives"
Last Saturday, our stake had a pool party so I donned my chevron swim suit and melted into the crowd of nylon, spandex, and skin. Fortunately for me, moving to a new town hasn't proven to be the loneliest choice and I've been able to re-connect with old friends. I found said friends on the outskirts fully dressed watching the diving contest which can only be described as a game for fools. Belly flops and over-rotated flips were the main event.
In our angsty anti-social state, a guy from my ward begged us to join in on beach volleyball. I soon found myself the only girl on either side of this not-so-heated game. I was pleased. This never happens. How oft have we seen the one attractive male being badgered by 11 girls begging him to volley with them.
Heaven help me if I have to participate in such shenanigans again for I have quickly grown used to being the center of attention
Whilst volleying, a teammate of mine asked what ward I was in and when I mentioned my little ward, he made the connection that I must know The Insulter. Oh boy did I. My teammate went on to mention the Insulter's girlfriend and how they will probably be wed soon.
If the facts check out, that begs the question as to why a pre-engaged guy was following me around a party to later trap me in a flirty attack. Men will never cease to confuse me.
After a few rounds of volleyball, my group left to watch my cousin in a relay race. I have yet to mention my cousin, so here it goes. He is very attractive and very much in med school and when you add the fact he's fluent in Italian you get why I'm quickly becoming vastly popular with the female population in the ward.
Here's what I've learned in my slingshot to popularity: girls are shameless.
As soon as my cousin emerged from the water and came to sit near us, girls came a flockin. One girl in particular, came bounding towards us, "Blue," she cried, "it's so great to see you!" (I've maybe had one conversation with this girl before), "So, who's your friend," she said eyeing my half naked cousin.
Once we got away from the hungry pack of she-wolves I was able to talk to a new member of our group. A member that just so happened to be male and tall. Enough said. Five minutes into the conversation I knew we would never be. First, he hates my home town, which is basically like him slapping my sister in the face. Second, he openly admitted to not liking the Harry Potter series AKA my childhood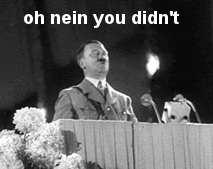 That's like slapping me in the face.
Enough with the slapping. There's an attractive Polynesian in my ward and I am determined to get to know him better. Wish me luck!